Welcome to our Investor Centre
For more than 20 years, QBiotics has been refining our approach to the discovery and development of plant-derived small molecule pharmaceuticals to address challenging medical conditions for humans and companion animals.
We are currently focused on oncology and wound healing, with earlier programmes in antibiotics and anti-inflammatories ready to be brought into development once our current lead programmes are commercialised. Our diversity of indications, combined with our simultaneous development for the human and veterinary markets, means we have multiple 'shots on goal', ultimately reducing our overall risk profile, while increasing our potential for success.
2022
Annual Report
The Annual Financial report for the year ended 30 June 2022 has been approved by the Board and is now available in the Investor Centre on our company website and from ASIC.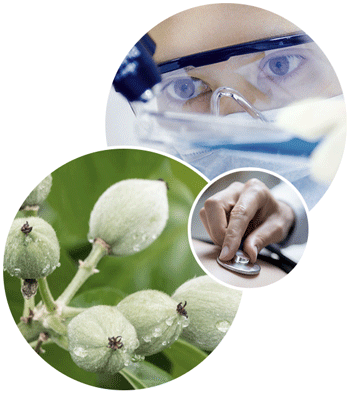 01
Simultaneous human/veterinary development model delivers earlier returns

We take advantage of simultaneous development of our products for both the human and veterinary applications. This has the dual outcome of providing early data in 'real world' veterinary disease models that informs, supports and increases the likelihood of success in our human product programmes. In addition, veterinary products are quicker to market, creating early repeatable revenue streams for reinvestment into the higher value human products.
02
First marketed veterinary drug, STELFONTA®

Tigilanol tiglate has been approved by the United States Food & Drug Administration - Center for Veterinary Medicine (FDA-CVM), European Medicines Agency (EMA), Switzerland's Swissmedic, the Veterinary Medicines Directorate (VMD) in the United Kingdom and the Australian Pesticides and Veterinary Medicines Authority (APVMA) as a veterinary oncology pharmaceutical (brand name STELFONTA® - this link will take you to a product site that contains information that may not comply with the Australian regulatory requirements.)
03
Robust human development programme

QBiotics human oncology programme is investigating the potential for our lead candidate tigilanol tiglate to treat a broad range of solid tumours. Three monotherapy trials are either underway or in late stage development in Head and Neck Squamous Cell Carcinoma (Phase IbIIa), melanoma (Phase IIb) and soft tissue sarcoma (Phase IIa). In addition, a clinical trial combining tigilanol tiglate with the MSD immune checkpoint inhibitor drug KEYTRUDA® is in late-stage planning.

Our wound healing pharmaceutical EBC-1013 has the potential to change the way chronic and acute wounds and burns are treated in the clinic. Formal toxicology and CMC programs are well underway, leading to a first-in-human trial for our initial indication, venous leg ulcers. Products and Pipeline.

Antibiotics is a new area of interest with considerable potential for QBiotics. Our approach is to disarm bacteria (via virulence disruption) rather than kill them outright, thus producing less evolutionary pressure for development of bacterial resistance. We believe our programme could provide solutions to the continued rise of multiple resistant organisms.
04
Leading with purpose

Our diverse and experienced team is united by a common thread: our scientific excellence, combined with an ethical and principled approach to the business of pharmaceutical development and commercialisation.
Resources
As an unlisted public company, we have an active secondary share market. If you are an existing shareholder, you can find information in this section on how to trade shares, and if you would like to access your holdings contact LINK Market Services, +61 1300 554 474 or email registrars@linkmarketservices.com.au.