Latest Announcement
First patient dosed in QBiotics and MSD clinical trial collab...
Human oncology programme: tigilanol tiglate
Our lead oncology product, tigilanol tiglate, is a novel small molecule administered as an intratumoural therapy. Tigilanol tiglate has potential to treat a broad range of solid tumours, either as a monotherapy or in combination with immune checkpoint inhibitor drugs.
Promising results from a first-in-human, dose-escalation safety trial
A dose-escalation safety trial in 22 patients with refractory cutaneous and subcutaneous solid tumours1 showed:
tigilanol tiglate was generally well tolerated with a maximum tolerated dose (MTD) not reached;
signs of local responsiveness to treatment in all 9 tumour types; and,
objective tumour responses in the higher dose cohorts.
Four patients (18%) achieving a Complete Response (full tumour destruction) in the injected tumour.
Two patients with melanoma also had anenestic responses (i.e. shrinkage or destruction of distant, non-injected tumours).
Efficacy results from the first-in-human safety study with tigilanol tiglate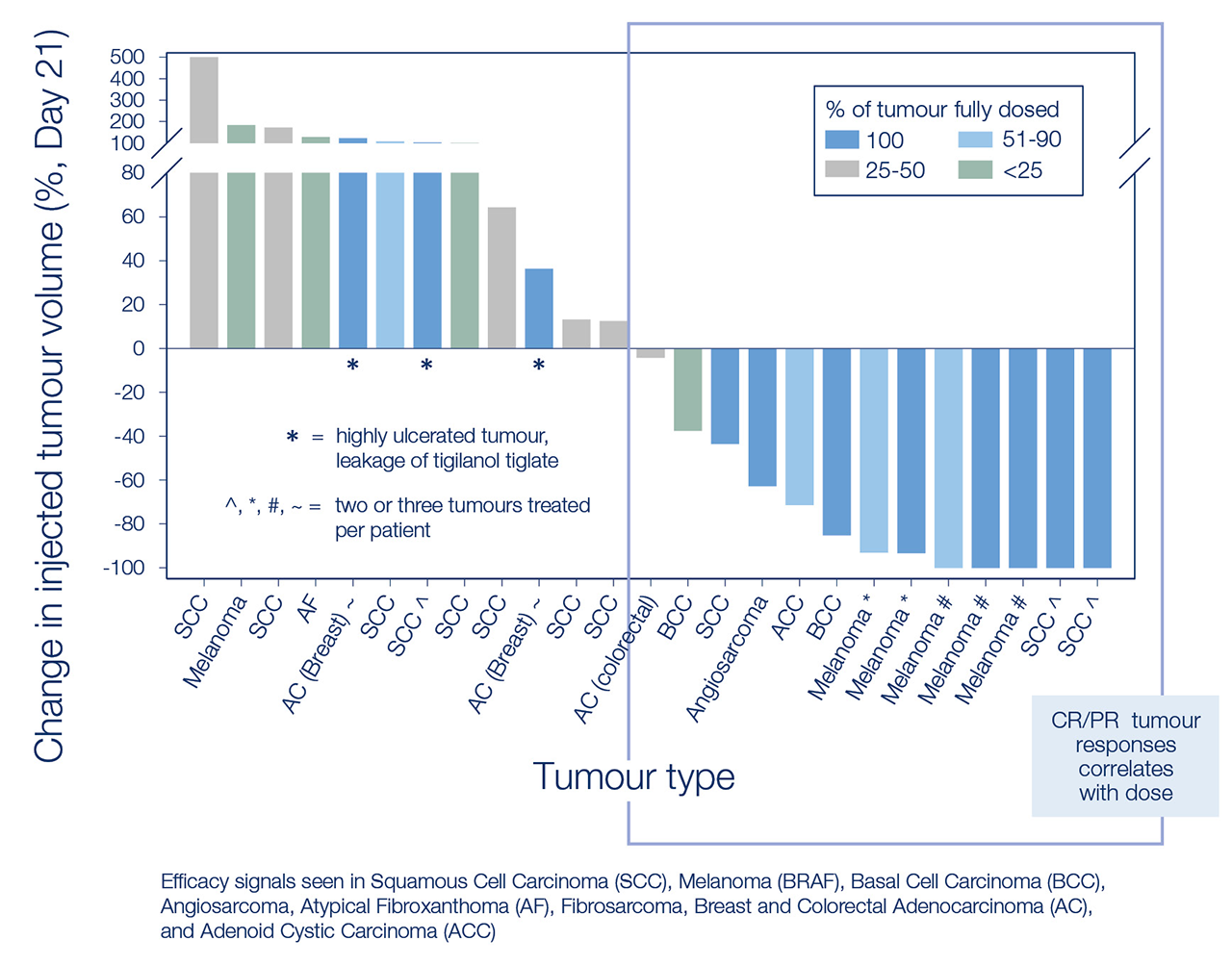 Moving into Clinical Phase II development
Following the positive results of the first-in-human safety study, we are now progressing new clinical trials in three indications:
head and neck squamous cell carcinoma - Phase Ib/IIa near completion; Phase IIa/b in late stage planning;
melanoma - a Phase Ib/IIa in combination with Keytruda and a Phase IIa monotherapy underway; and,
soft tissue sarcoma - in late stage planning.
In addition to these monotherapy trials (i.e. where tigilanol tiglate is a stand-alone treatment), we have entered into a clinical collaboration with MSD (tradename of Merck & Co. Inc, Kenilworth, NJ, USA) to evaluate the use of tigilanol tiglate in combination with their immune checkpoint inhibitor drug Keytruda® (pembrolizumab) in patients with unresectable melanoma in a Phase Ib/IIa clinical trial.
---
Panizza et al. (2019). EBioMedicine, 9(41), 1-9.